Still no respite from the incessant rains here! After a break of exactly 1 & ½days, Mr.Monsoon has reported back to work.
I follow a food routine during this season:
1.This is the season, when I indulge in my favourite fries, bhajjis, samosas etc.. to brighten(???) these wet ,gloomy, lazy days( that's my excuse).
2.Then Guilt visits me and I am suddenly reminded of words such as nutrition, fat,health etc…
3.Then I follow a strict diet of nutritious healthy foods like veggies, soups etc…to cancel out the not so healthy munchies.
On one such guilt trip,a hot piping nutritious Carrot soup is what I made to cancel out the not-so- nutritious treats I have indulged in!!
Carrots- Storehouse for Vitamin A (beta carotene) are good in any form for elders as well as for children. Infact, my little son is very fond of carrots ,just like Bugs bunny (Now you know where both of them get their energy from!)
So here's a soup for all you mothers too who are constantly in search for different recipes to make your kids eat their veggies. The goodness of Carrots flavoured with some spices and garnished with coriandermakes this soup irresistible to the palate.
I have mostly followed the original recipe from Sanjeev Kapoor, with some changes to suit my taste.The original recipe also had garlic, which I did not add and I reduced the amount of fresh green coriander leaves.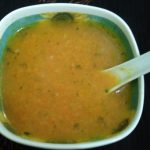 Chop fresh coriander leaves finely and reserve the stems.

Heat butter in a deep pan, add bay leaves, peppercorns, onion, and sautxe9 for two minutes.

Add carrots, coriander stems and 5 cups of water and bring to a boil.

When the carrots are completely cooked, remove them and put in a blender to make a coarse puree.

Boil and reduce the stock slightly and strain.

Take the puree in a deep pan and add strained stock to reach the desired consistency. Bring to a boil again.

Add white pepper powder dissolved in a little water.

Garnish with finely chopped fresh coriander leaves.