Millets have been traditionally consumed in many parts in rural India. Millets like Ragi/Nagli, Bajri/Bajra,Jowar,Foxtail are some of the oldest and most widely consumed grains in rural India.
Owing to the increasing health consciousness, urban Indians are re-discovering nuggets of their grandma's wisdom, making these grains lose their 'poor man's grain' status. These ancient magical grains are now being touted as our very own 'supergrains'.You can find variety of Millets, Ragi/Nagli, Jowar, Foxtail, Barnyard,Little millet and other such super grains sitting fashionably on the health food aisles in supermarkets.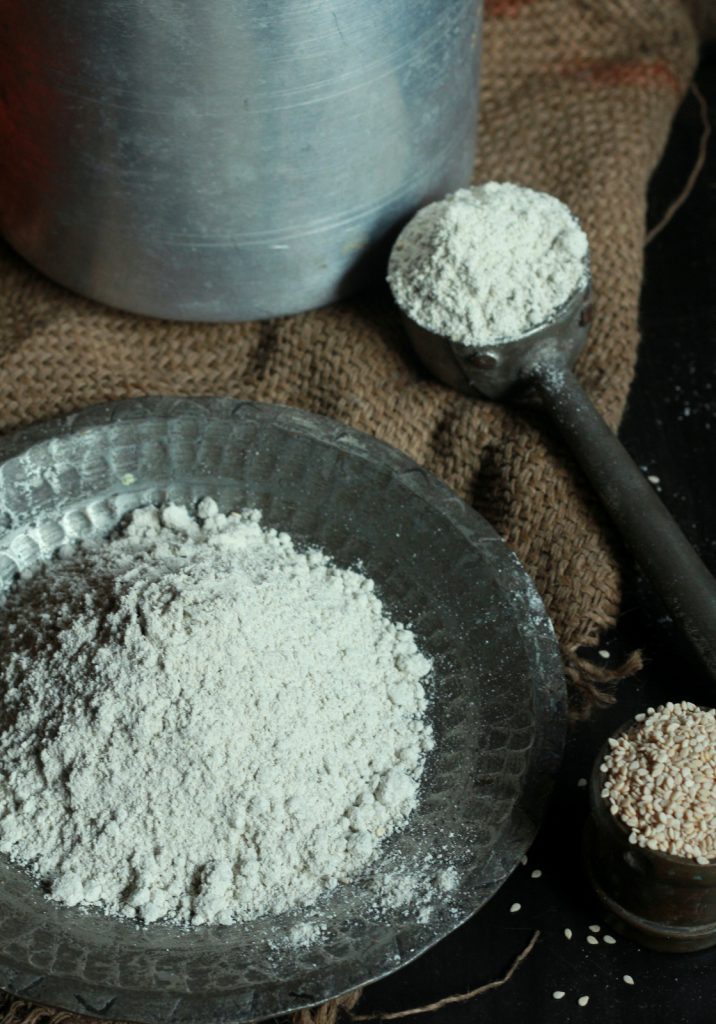 I love using a variety of millets in our regular meals. You can easily include them in your regular diet by making Bhakri /roti, Khichdi or porridge. Bajra/Bajri is a nutritious grain, a great energy source and keeps the body warm during winters. Addition of sesame seeds amps up the health quotient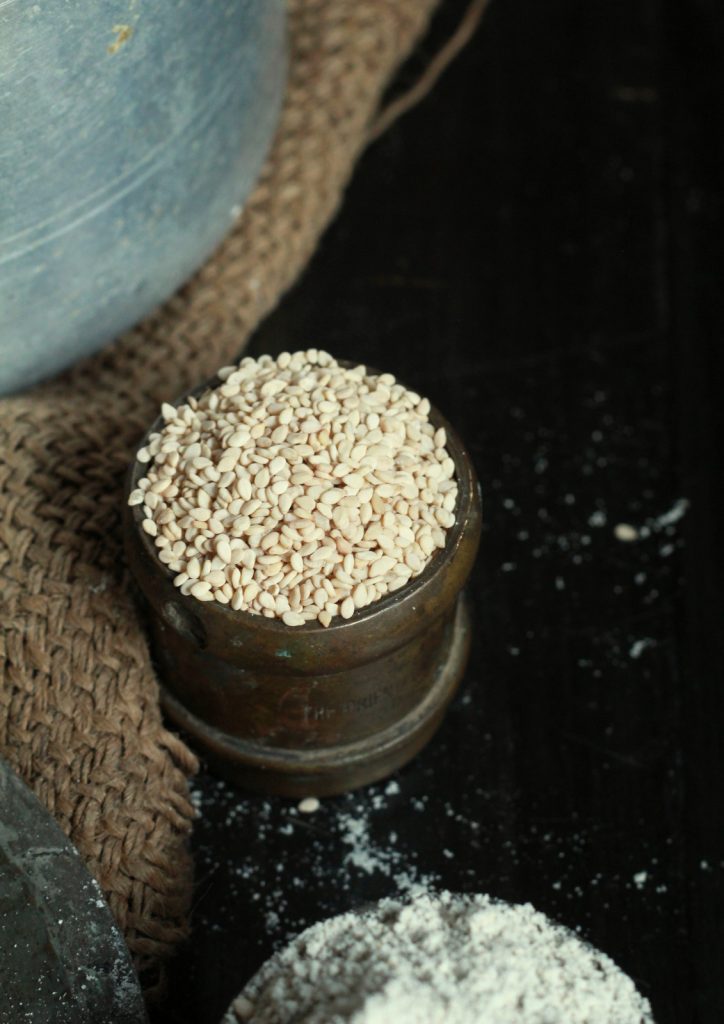 Sesame crusted Bajri bhakri is prepared in Maharashtra during winters around the festival of Makar Sakranti,usually on the day of Bhogi and is served with Bhogichi Bhaji.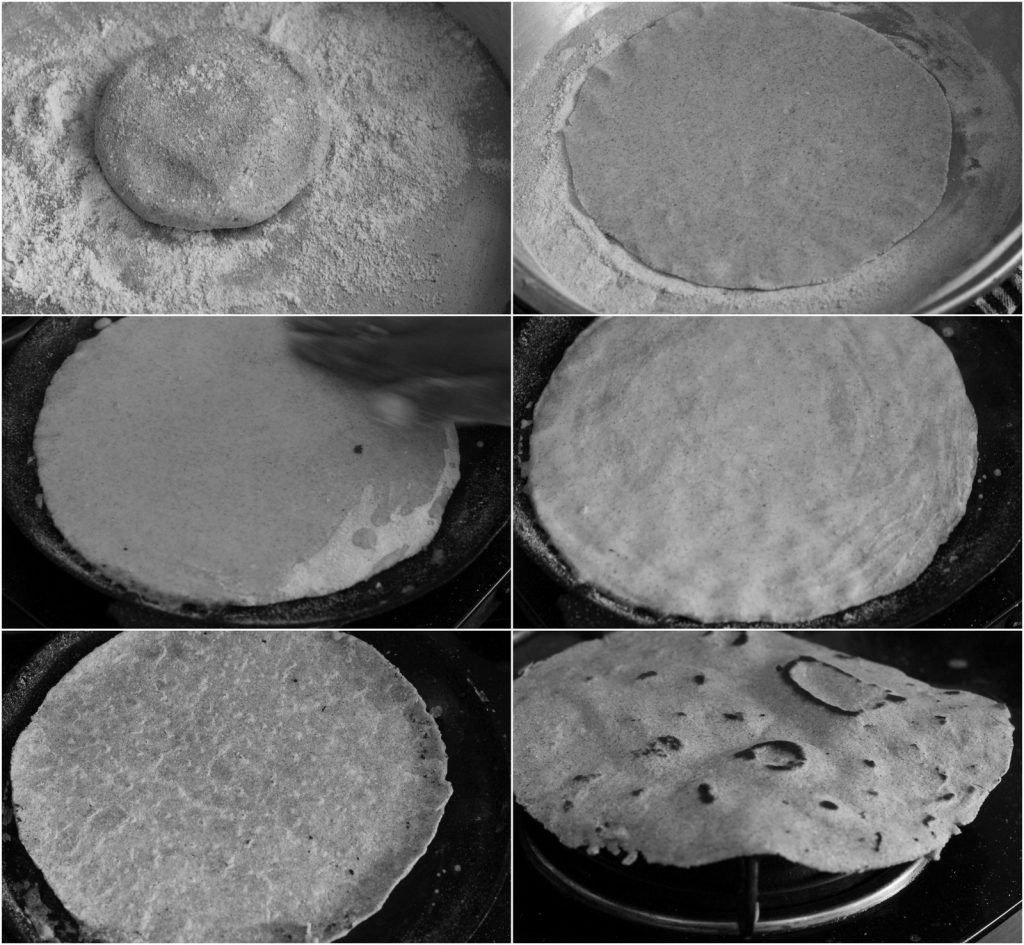 Bajri bharkri makes for a wholesome meal all year round and can be served with any curry, chutney, Thecha or just plain curd.Making the bhakris needs a bit of practice,but once you get a hang of it is quite straightforward to make them.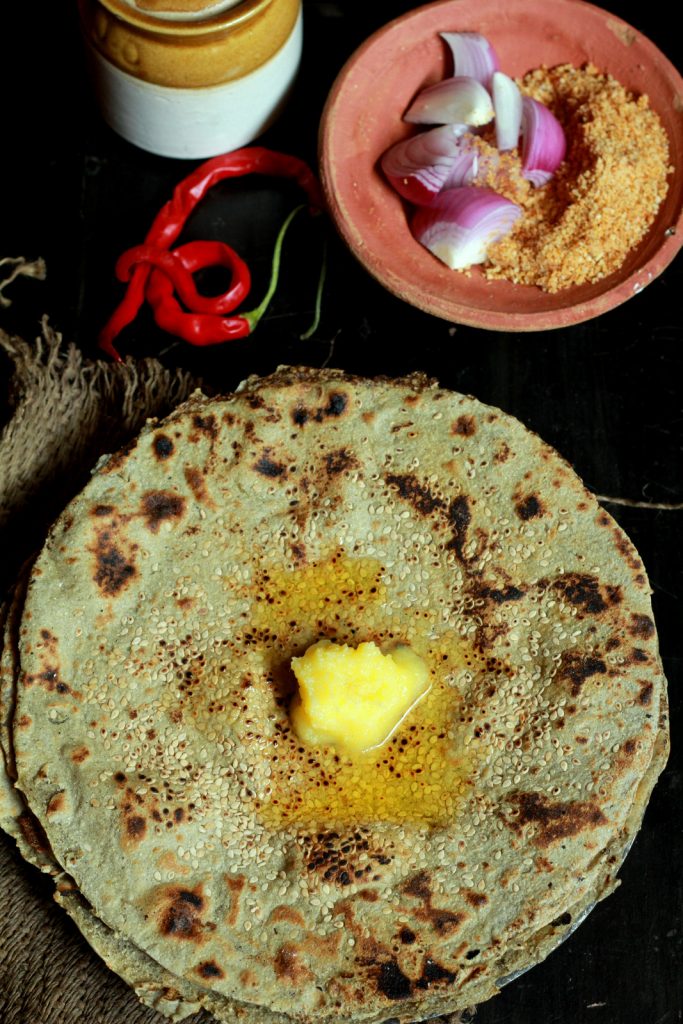 Bajri-Til Bhakri Recipe (Sesame Crusted Bajra Flatbread Recipe)
2017-01-08 09:48:24
Ingredients
3 cups bajri flour.
1/4 cup sesame seeds
Salt to taste
warm water as needed
Instructions
Heat a heavy iron griddle.
Add the flour to a mixing bowl.
Add water and knead to make a stiff pliable dough ball.
Divide the dough into 6-7 parts and roll them into balls.
Dust a working surface with some flour.
Take 1 dough ball and flatten it in your palm. Keep the rest covered with a kitchen towel.
Pat the dough ball into a circle on the work surface to about 6-7 inches round (you should get a thin circle)
Sprinkle some sesame seeds on the surface of the bhakri and press lightly.
Carefully lift the bhakri and place on the hot griddle.
Apply some water over the entire upper side of bahkri.
Use a flat spatula and flip it.
Cook till brown spots appear on the bottom side of the bhakri (about 1 minute on high flame)
Flip again and cook it directly on the flame till it ballons up or till it is well cooked.
Repeat this for the rest of the dough balls.
Serve hot topped with ghee or butter along with chutney,thecha or any curry
My Foodcourt https://www.my-foodcourt.com/