Narali Bhaat is a delicious sweet Coconut rice that is typically prepared in Maharashtra on the occasion of Narali Poornima or Rakhi Poornima.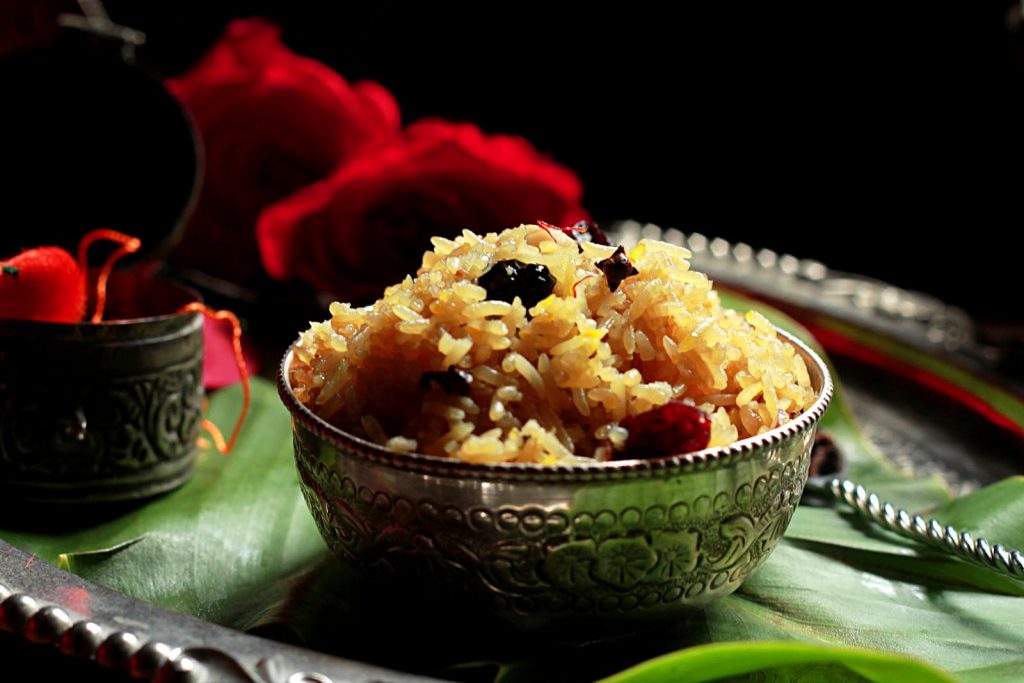 The most enjoyable part of religious festivities for me is celebrating the ceremonious food traditionally passed on from generation to generation. Food connects us to our past and is the best way to create happy memories for the future, no matter what the occasion.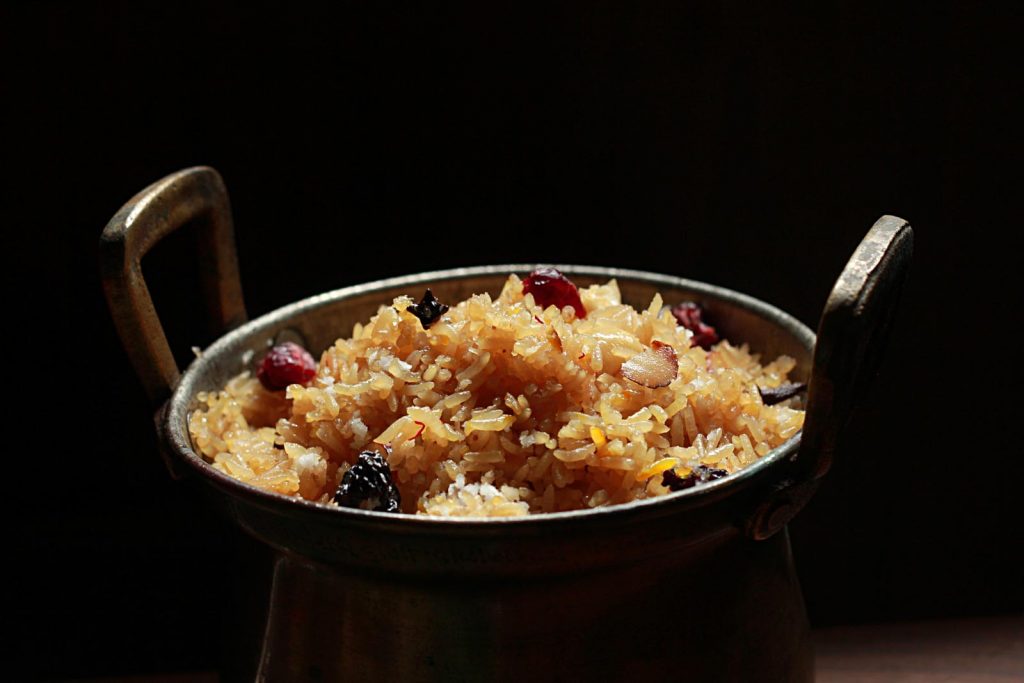 Seasons and seasonal produce play an important role in preparing delicacies for these special occasions. Narali Poornima & Rakhi Poornima is a festival celebrated all over Maharashtra. While the coastal fishing community celebrates this festival by offering coconuts to the sea, this day also celebrates the bond of love between a brother and sister.
Our creative Diva has made these gorgeous Rakhis (from scraps and waste material) this year for her beloved brothers 🙂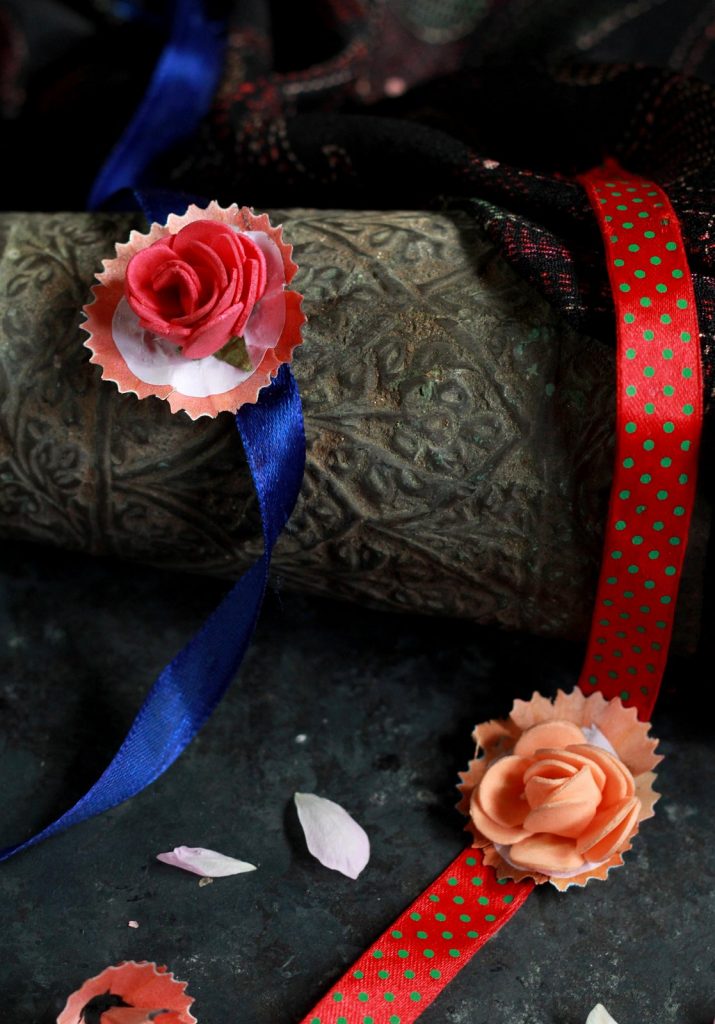 Traditionally Narali Bhaat (sweet coconut rice) is made to celebrate this festival where rice is cooked with fresh coconut, jaggery and some spices. I especially love the flavour of cloves in this earthy sweet dish. Quick and easy to prepare, I think the Rice tastes even better the next day, once the flavours mingle.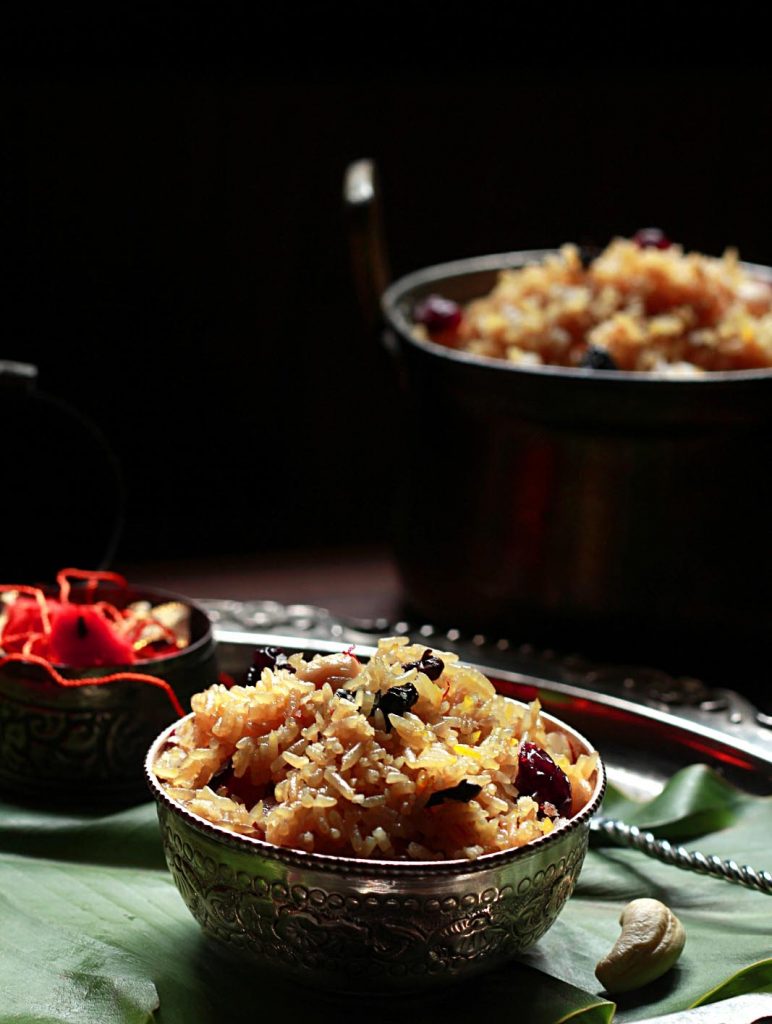 Wash and drain rice. Keep aside for about 45 minutes.

In a nonstick /heavy bottom pan or cooker heat 3 tbsp ghee.

Add cloves and saute for 3-4 minutes on low flame.

Add washed rice and mix till the grains are coated with ghee.

Add water. Once it boils, add the saffron strands and mix.

Cover and cook till the rice is just cooked.

Meanwhile mix the jaggery and coconut.

Heat in another pan till the jaggery melts.

Add this mixture to the cooked rice.

Mix carefully so as not to break the grains (use a fork if you like, to fluff the grains)

Cover and cook for 4-5 minutes more.

Add 1 tbsp ghee to a small pan. Add the dry fruits and nuts to it and saute for 1-2 minutes.

Garnish Narali Bhaat with fried nuts and dry fruits.