Sai Bhaji– This is a very popular Sindhi signature dish. It is also known as 'Sindhi Palak' since Palak (spinach ) is used generously for this recipe. I recently learnt this recipe from my Sindhi colleague and it was an instant hit in our home.Hey Nupur this time it's the traditional Sindhi Sai Bhaji for A-Z of Indian vegetables.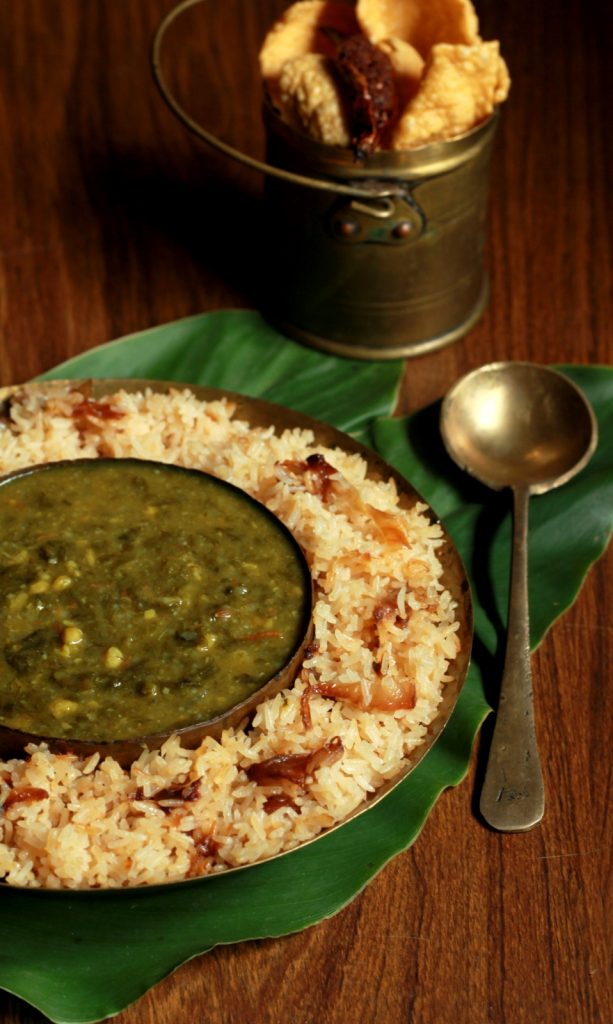 _________________________________________________________Sai Bhaji recipe
Servings :5-6
_____________________________________________________

In a pressure cooker heat oil. Add the cumene seeds, turmeric powder and then the chopped green chillies. Add the onions and sautxe9 till the onions turn golden brown in colour. Add the tomatoes and cook till the tomatoes become mushy. Add the coriander powder and the red chilli powder. Add the other veggies-potato cubes, brinjal cubes, chopped palak leaves, chopped chuka leaves and mix nicely. Add the chana dal. Add one cup of water and salt. Mix nicely and pressure cook on high heat for one whistle. Reduce the heat and cook for another6-7 minutes. Once the steam goes off remove the lid. Remove the potatoes cubes and mash the remaining bhaji with the back of a round spoon or a masher. This helps to mash the chana dal and palak leaves and the bhaji becomes homogenous. Put back the potato pieces.

If you want to serve Sai Bhaji with Roti ,evaporate some water to thicken it. With rice it can be serve a little liquidish.