Sequel's are in fashion in Bollywood and I don't want to be left behind especially since most of the recent sequel's have been hits!
This is a sequel to the Red Chili Chutney (Spice it up 1) –Red Chili Thecha (Spice it up 2)
The Protagonist is the same- Fiery Hot Red Chili Pepper, the treatment is a bit different and the leading lady J has changed!From the mildly flavoured,sweet Onion now it's the strong flavoured and pungent Garlic.And since it is Garlic, I have roasted it before making the Thecha!
So here's one more recipe Red Chili Thechato spice up the Valentine's Day!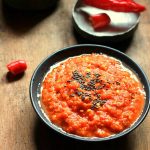 Servings

Prep Time

12

cup

5

minutes
Servings

Prep Time

12

cup

5

minutes
8 - 10

Chili Peppers

large Red washed and stems removed

5 - 6

cans

garlic garlic as shown in the photo alternatively you use 5-6 garlic

bulbs small fresh bulbs (I have used fresh green as shown in the photo alternatively you use 5-6 cloves

1

tbsp

lemon juice

Salt

as per taste
Roast the Chili peppers directly on a low Flame.(Pierce a fork in each Pepper and Roast it.)

Similarly Roast the Garlic bulbs.If you donu2019t have the patience to roast each Pepper and garlic bulb chop the peppers and garlic bulbs and roast them in a pan with 1 tsp oil.

Cool the peppers and garlic.

Pound together the Red pepper and garlic to a coarse paste adding salt as required in a mortar and pestle. You can also coarsely grind it in a mixer. I prefer the taste using Mortar and pestle.

Remove the Thecha in a bowl and add lemon juice. Mix properly.

Heat oil in a pan and add the mustard seeds.

Once they splutter add the hing and pour this over Thecha.

Mix well and serve with Bhakri or Paratha or Roti.

This Thecha can stay upto 1 month if refrigerated but then who wants to keep it for a month!