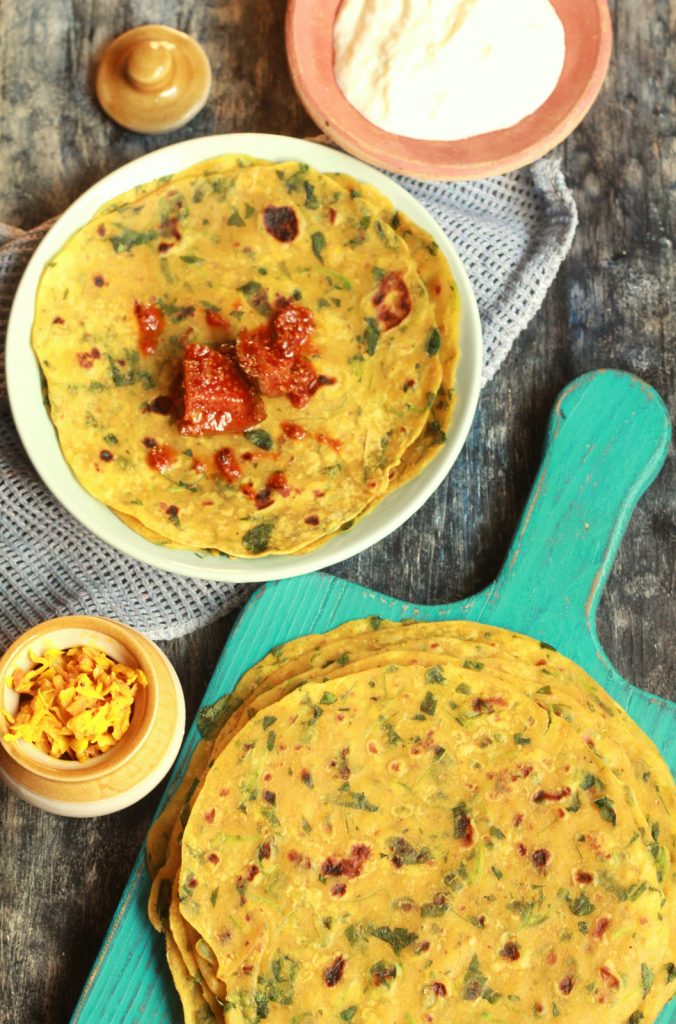 Fresh leafy vegetables are my weakness and I can't resist the temptation of buying them whenever I go veggie shopping . Methi (Fenugreel) is loved by everyone at home even the little ones.The best thing one can easily make with a bunch of Methi leaves is Parathas.
In spite of it's bitter taste, the innumerable health benefits of Methi leaves, makes it one of the most healthy greens recommended by dietitians,Moms and grandmothers alike.
This is a basic recipe with easily available ingredients in most pantries. You can also add some garlic -ginger paste to spice it up.The soy/oats and gram flour amp up the health quotient. You can use ready mixed multigrain flour too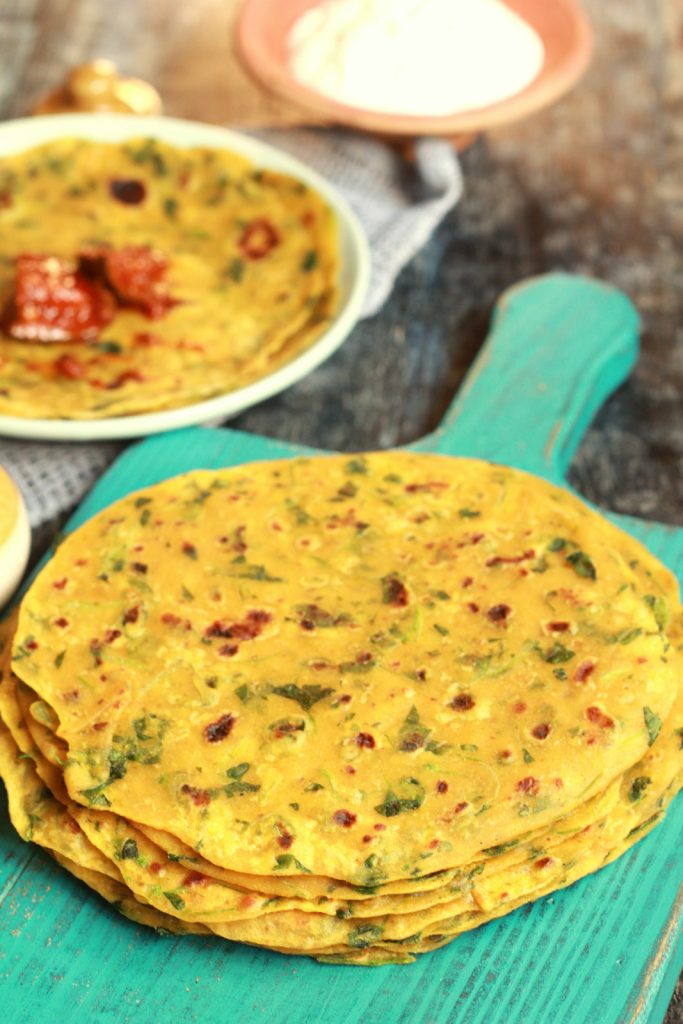 Methi parathas make for a great Lunch box meal or a handy on the go snack. Serve them with your favorite pickle,chutney or curd.
Combine all the ingredients except oil in a mixing bowl.

Add water as required and mix to make a soft pliable dough.The dough should not be too hard or too soft. Form a ball and keep it covered for about 10 mins.

Make small lime sized balls of the dough. (about 15-16)

Dust a flat working surface with whole wheat flour.Roll out one dough ball into a small 2 inch circle. Dip your finger tips in little oil and apply that to the center of the circle.Fold the circle in half and then again in half to make a triangle . Dust and roll out this triangle into a thin circle about 6-7 inches in diameter.

On a hot griddle/tava, cook the paratha using some oil/butter/ghee on both sides till brown spots appear. (For the diet conscious parathas can be cooked without the oil or butter. It tastes equally good.)

Repeat this for the rest of the dough balls. Once you get a hang of it you can simultaneously roll out the next paratha by the time the earlier one cooks.

Serve with pickle ,chutney or curd
Folding the dough into a triangle and then rolling it out into a circle makes the parathas soft but needs practice. You can alternatively roll out the dough balls directly into a circle