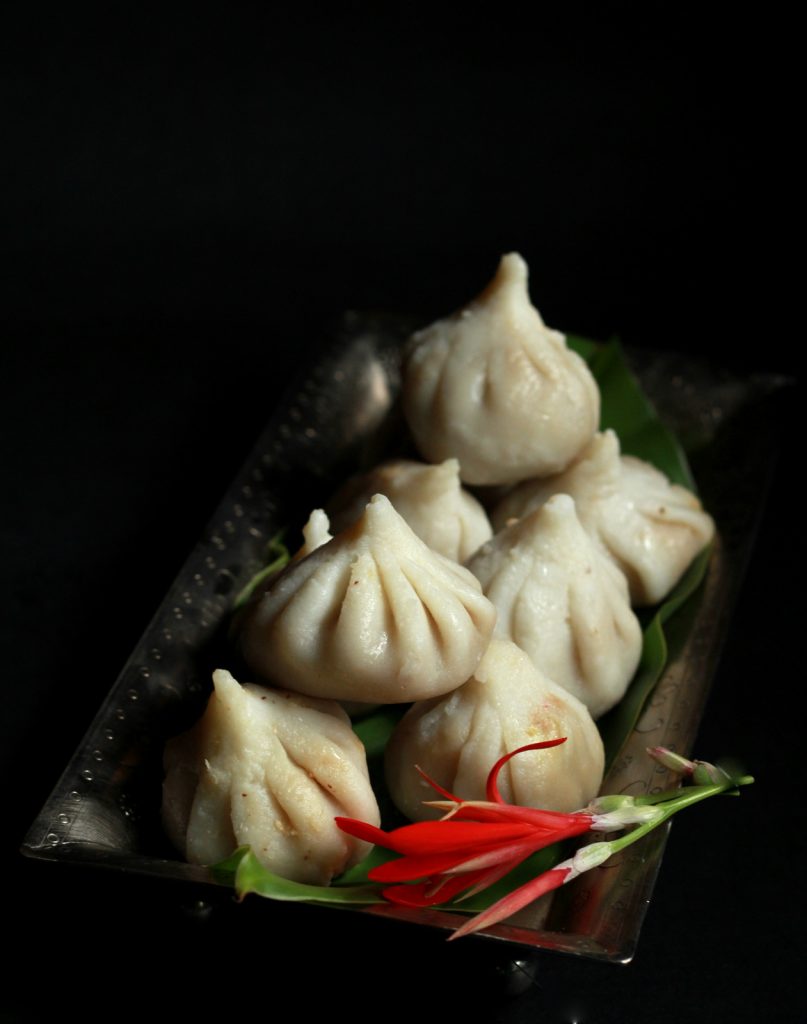 Ganapati festival feast is synonymous with Modak. Lord Ganesha's favourite food…Taste it and you know why!!!
Majority of the households in Maharashtra make these beautifully shaped (the shape can only be called as-Modak shape, no other shape describes it better!!) mouthwatering Modak during Ganesh festival
I have very fond memories associated with Modak. When I was at my mom's place ,on Ganesh Chaturthi (first day of Ganesh festival) my Mom would make the dough for the Modaks and since it has to be shaped and filled when hot, we all -my father, brother and myself- would help her make the Modaks. It was a fun family activity! I have this beautifal picture etched in my memory forever!
First make the Stuffing. Put the Coconut and jaggery in a heavy bottom pan and cook on medium flame, stiriing in between. Cook till the jaggery melts and the mixture becomes homogenous.

Add the roasted poppy seeds and cook for few more minutes.Remove from heat and allow it to cool.

Now make the cover.The cover has to be made a bit carefully. Place 1 cup water in a pan and boil it. Once it boils add salt and oil to it . Lower the heat, gradually add the rice flour with one hand and stir the mixture continuously with the other till all the flour is incorporated.Take care that no lumps are formed in the mixture. Take it off the heat, cover and keep for 1-2 minutes. Remove the dough on a flat surface and knead well with your hands while it is still hot. You can apply a little oil to your hands to avoid the dough from sticking.

This is a very important step. You have to knead the dough properly to avoid the cover from cracking. Now take a small lemon sized ball from the dough and keep the remaining dough covered with a wet kitchen towel.(The remaining dough should not be allowed to cool) This is where any extra help is welcome 🙂

Flatten the small ball shaped dough with both your hands like a poori.Do not make it too thin. Now hold the flat dough in your left hand and add the coconut stuffing.Apply little oil to your right hand and pinch the edges of the flattened dough at 4-5 places.

Bring them together to join them at the centre of the Modak. Shape resembles that of garlic bulb from top

Working quickly, repeat this process for the remaining dough and make more Modaks before the dough cools down. If you are alone you can guess how fast you have to make it!!!

After all the Modaks have been made steam them in a steamer or Take a steel sieve.Grease it with oil. Keep the Modaks one by one in it taking care that they do not stick to each other.

Keep this sieve on a steamer(You can use a deep vessel with 1/3rd water.) Cover the Modaks and cook for about 12-13 minutes.

Congrats..You have just made one of the most delicious traditional Maharashtrian Sweets!

Top each hot steaming Modak with Ghee generously