Chana dal vada/AAmvade/AAmbode is a spicy,tasty,deep fried, south Indiansnack made with chana dal,herbs and spices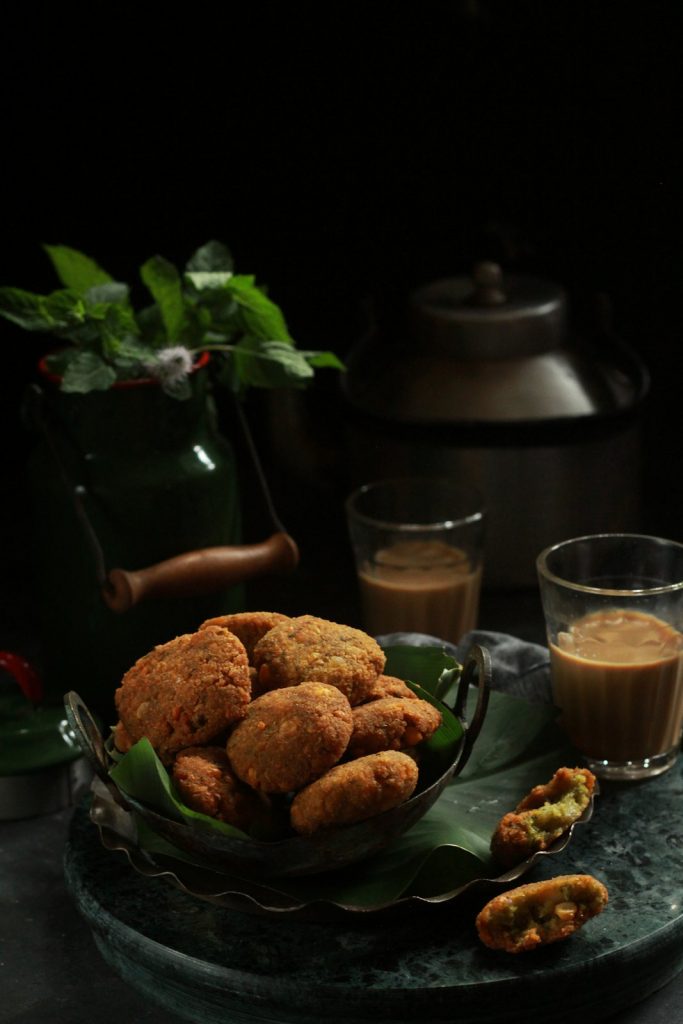 Dark clouds, light showers, gentle breeze; spent the most magical weekend lounging in front of the TV with hot spicy food and Ginger Chai. Our garden now wears a fresh green coat. Flowers bloom and my herb garden is alive again! The Monsoon has brought fresh new life to the surroundings.
This Minty Dal Vada is my rainy day deep fired drip!Mint, Coriander, green chillies, and ginger together lend a delectable flavor to these crunchy Chana Dal fritters. The hot spicy vadas are a perfect monsoon snack accompanied by a cup of fresh ginger tea.
You can also use methi (fenugreek) or dill (shepu/suva) leaves instead of mint or coriander leaves. Chana dal vada with shepu is my personal favourite 🙂 These vadas made for a great party starter snack since they can be made ahead and re-heated when required. For the one's who are adventurous, you can dip them in hot rasam and serve. I had this combo at a wedding once and loved it 🙂
I learnt to make this snack from my mother-in-law. You can adjust the proportion of the ingredients to your taste.The most important tip here is to reduce the moisture from the soaked dal as much as possible.

Completely drain the water from the dal. Spread on a kitchen towel to soak up the moisture.

Coarsely grind the chana dal with the salt, coconut, mint, coriander, green chillies and ginger. (Do not grind to a fine paste)

Just when you are about to fry add the chopped onions and mix well.

Make small balls of this mixture and flatten to make small patties/discs. Place on a plate.

Deep fry (in batches) on medium-low heat till golden brown. Drain on a paper towel.

Serve hot immediately. No accompaniments necessary!