Last One month we having been celebrating one festival or the other and the festivities still continue with the Ganesh festival. I am not a typical 'rituals person' but enjoy the festive food that is prepared during the festivals. We have been indulging in all kinds of traditional feasts and still continuing with it maybe for another month! As my grandmother would say 'you do not think of the calories during these feasts'. Homemade fresh sweets and savories (majority made with homemade ghee (brown butter) are stored in steel containers luring you with their delectable aromas each time you pass by! I have decided to give up concern for my growing waistline till the festivities last and indulge in the feasts without any guilt! 🙂
Last week we celebrated the festive season with some family friends over to our house for high tea. Usually this is referred to here in the local language as Faraal (snacks) instead of tea party. A variety of Indian savories and sweets are served along with tea or coffee. Given our guests' festive diet restrictions we decided to have dishes without onion and garlic, which was really difficult for an onion-garlic addict like me.
Apart from some fried crispies we had Tamarind Poha and Sweet Corn Appe (recipe below) as the main snacks along with some Mint-lemon Tea for the tea party. I do not have the photos of the actual party since I was very busy making and serving hot Corn Appe , so these are all 'after' photos with whatever leftovers I had.
As I mentioned in my earlier post, I had some 2 kgs of corn to be used up, I made a no onion- sweet corn version of Appe. Appe are small round savoury steamed cakes usually made with the Idli batter and spices to enhance the flavor. An Appe mould or tava as it is called (Aebleskiver pan) is a must for making these delightful little balls of goodness.
The Sweet corn added a lovely crunch to the spicy appe and I did not miss the onions at all. Infact, everyone asked me for the recipe. A simple sweet corn twist in the recipe changed the taste of the humble appe!
I served mint-lemon tea along with the snacks. This was a welcome change from the traditional double boiled, tannin loaded dark brown tea that is normally served with Faraal.
My small high tea party is going to be a part of the Big Tea Partyat A Mad Tea Partyhosted by the wonderful Anita. I love her yearly parties and thanks Anita once again for a lovely theme!
Here's the recipe for the Sweet Corn Appe: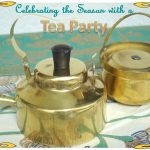 more Oil for shallow frying the Appe.

Mix together the idli batter, sweetcorn, coriander leaves, chilli paste and salt.

In a small pan heat 2 tsp oil and add the mustard seeds and heat till they crackle.

Add the mustard seeds+oil to the above batter.

Drop spoonfuls of the batter into each round mould in the pan.

Drizzle little oil from the sides of the batter.

Cover and cook for 5-6 minutes on low heat or till the lower part of the Appe turns golden.

Turn each Appe with a wooden skewer (if using non stick pan) and cook on the other side for another 5 minutes.

Insert the skewer and test the Appe for doneness. (The batter should not stick to the skewer).

Serve hot with chutney or sauce.
Note:
I used readymade Idli batter since I had to make ~ 50 Appe's.
My mom makes a version of Appe with a mixture of daals and rice for the batter. So you can also add a mixture of Daals instead of just Urad daal to the batter.