A unique combination of fresh eggplants and Lentils, tempered with flavorful spices makes this comforting Maharashtrian staple –Dal Vanga. Simple pantry ingredients and fresh seasonal eggplants (preferably the small green Jalgaon variety) is all that takes to make this Dal.
Dal Vangi served with hot steamed Rice, a dollop of ghee and some papad on the side or paired with Bhakri, makes for a wholesome meal, especially for busy weeknights.
Dal Vanga (brinjal/baingan/eggplant) is one of my favourite recipes featuring Dal and the JFI ingredient of the month Eggplant(Vanga).You must have already guessed that I am rushing this Dal Vanga recipe to Sangeeta of Ghar Ka Khana, for JFI- Eggplant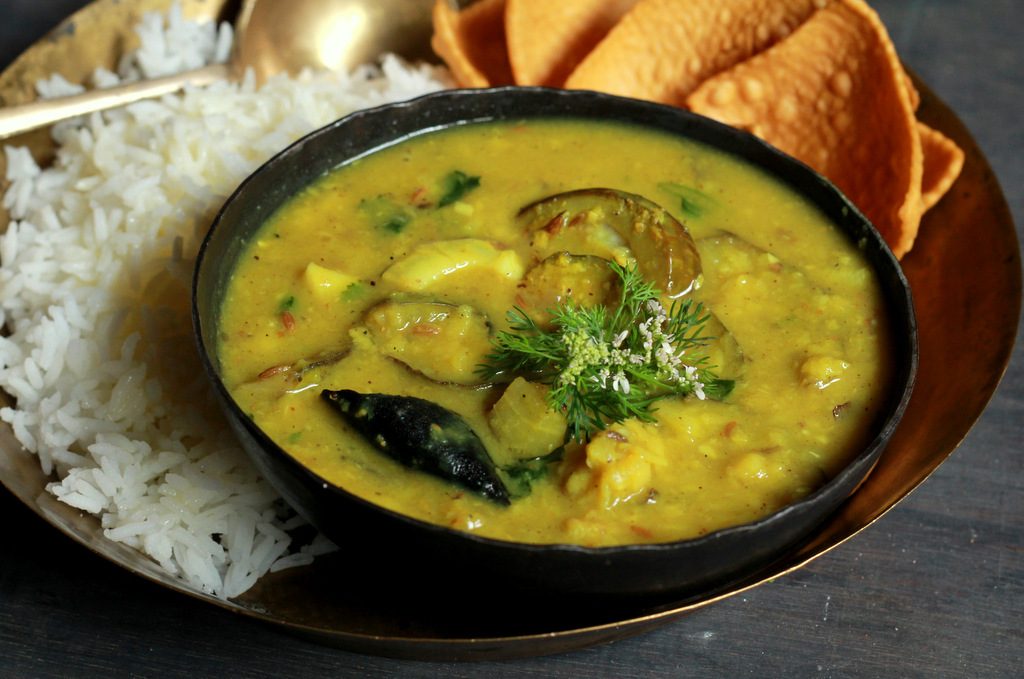 Pressure cook toovar dal along with about 2 cups of water, few drops of oil and turmeric., till it becomes soft.

Coarsely pound/crush together chillies, garlic, cumin seeds and the coconut piece.

Add the mustard seeds and then the crushed chilly-garlic chutney-coconut.

Add eggplant slices and stir. Sprinkle some salt and stir.

Cook covered till the eggplants are soft. Add little water if required (You can use the water from the dal)

Add the Dal,Amsul,Goda Masala,jaggery, ore salt if required and mix well.

Adjust the consistency by adding some more water if required and let it boil gently for 2-3 minutes more.

Garnish with fresh coriander leaves. Serve hot.
For people (specially kids) who do not like eggplants -mash the the slices once cooked, (before adding the dal), using a potato masher or the back of the spoon. Or alternatively pressure cook the slices along with the dal, mash and then temper with the spices.